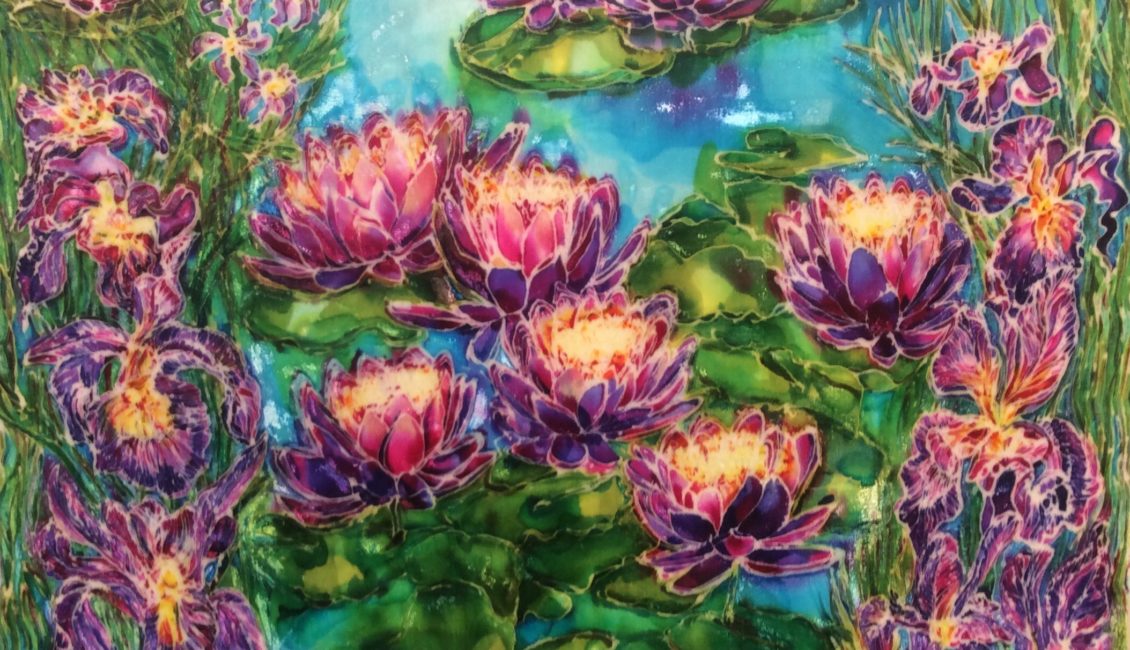 Aurora Fields by Bernadette Heenan – Thursday 14th February – Thursday 14th March

Aurora Fields, an exhibition by local artist Bernadette Heenan, runs from Thursday 14th February to Thursday 14th March.
Her inspiration comes from her love of nature and in particular her love of botanical and floral beauty. Capturing the essence of flowers from lily ponds to orchids and pansies, with a focus on colour, light and form.
Bernadette's studio Artwork is inspired by the creative therapeutic experience of exploring her passion for colour and painting, for many years now. She developed her style and technique using Silk Velvet as a canvas, building layers of paint, to reveal an intensity of colour, achieving a light reflective surface, iridescent and lustrous, a suggested 3D illuminated, visual effect.
For many, flowers represent symbols of beauty, serenity, renewal, new seasons, new beginnings, joy, growth, strength and fragility. She allows for powerful abstract patterns to flow with the paint, to evoke a feeling of the "Aurora gardens or fields of light" in these paintings.
Resurrection, life, springtime, a second chance, an uplifting experience of blooming bright flower gardens, of floral botanical art.  Exhibition opening at 6pm-8pm on the Thursday 14th  February, all are welcome. The exhibition will be continuing for a month at Nenagh Arts Centre, viewing anytime, during regular opening times at the Arts Centre.