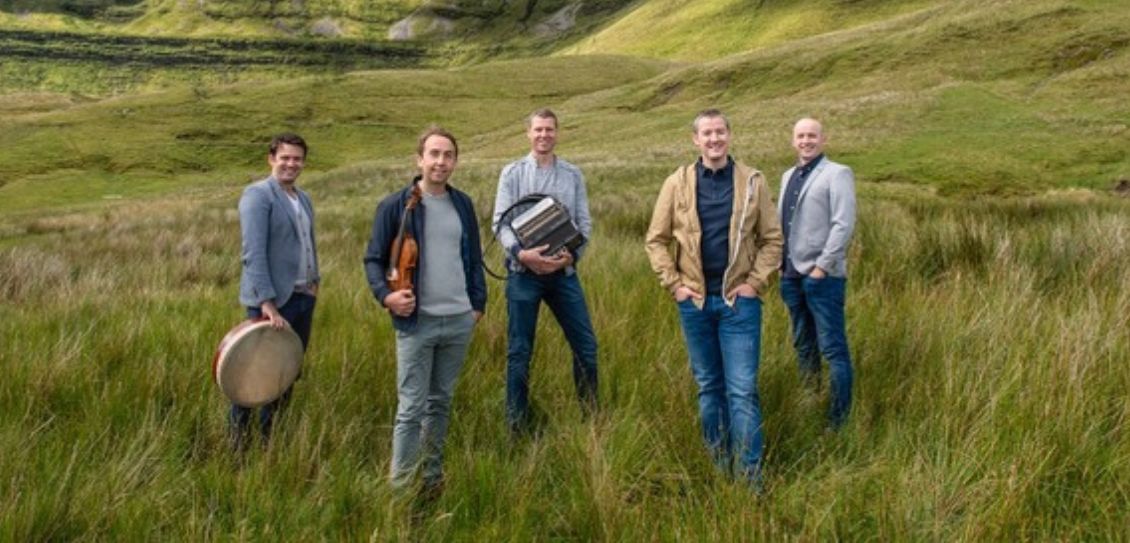 Conradh Na Gaeilge -Téada le Séamus Begley – Dé hAoine 12 Samain, 8.00pm – Ticéad €12.00
PLEASE NOTE that all attendees at this performance must produce proof of immunity (vaccination cert or recovery cert) upon entry.
Tá cáil ar an mbanna "Téada" don sárcheol traidisiúnta. Bhíodar ag seinnt ag Féilte sna Stáit Aontaithe, i gCeanada, san Eoráip,agus san Aifric, i Meiciso agus ag Féilte eile ar fúd an domhain. Oisín Mac Diarmada a chuir tús leis an mbanna cáiliúil seo.
Is iad na ceoltóirí a bhí ann ó thús ná Oisín é féin leis an bhfidil, Paul Finn leis an mbosca ceoil, Damien Stenson leis an bhflúit, Seán McElwain le giotar,
Tristan Rosenstock leis an mbodhrán. Anois bíonn an t-amhránaí traidisiúnta Séamus Begley leo chomh maith le Samantha Harvey ar an bpiano agus ag damhsa . Beidh rogha iontach ann a d'ardodh do chroí!
Téada means "strings" and is a traditional band which has appeared at major music festivals and will raise the people of North Tipperary's spirits on Friday 12th November in the Nenagh Arts Centre with their fine selection of music and song.

We're happy to welcome back our audiences and artists to Nenagh Arts Centre. Below are a number of policies in place for your safety:
Vaccination Passports or Recovery Certs will be required to attend this event.
The telephone number of the person booking will be used in the event of contact tracing.
Please do not attend if you are exhibiting any symptoms of COVID-19 or have been in contact with anyone who has tested positive.
Arriving early is advisable to comply with safe social distancing
Wearing of face masks is mandatory.
Please use hand sanitiser at the entrance.
Box office will close at 5pm the day of the event – All phone orders must be collected prior to this.
There is a one way system in operation within the building.
You will be directed to your seat by our front of house staff.
Where possible use e-tickets displayed on your phone.