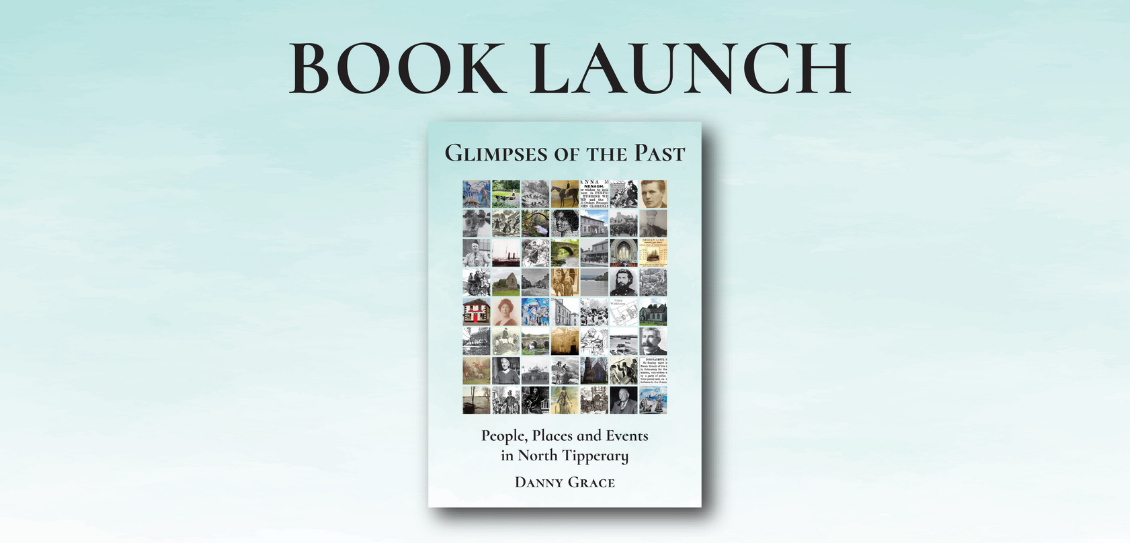 Danny Grace 'Glimpses of the Past: People, Places and Events in North Tipperary' Book Launch – Friday 19th November, 8pm – Tickets: FREE but MUST be booked below
PLEASE NOTE that all attendees at this book launch must produce proof of immunity (vaccination cert or recovery cert) upon entry.
'Glimpses of the Past', the popular series of articles contributed to the Nenagh Guardian by local historian and retired Nenagh CBS Secondary School teacher Danny Grace, will be launched on Friday November 19th at 8pm. Containing a selection of 30 chapters from the series, the book will be launched by best-selling author Seán Hogan, native of Puckane.
Begun in 2013, Danny's 'Glimpses of the Past' series quickly became one of the Nenagh Guardian's best-loved features. The articles are researched with meticulous depth and conveyed with an entertaining style of writing that kept readers engaged throughout.
The series explores a captivating range of themes, from politics to religion, myth to emigration, and the socio-economic circumstances faced by our ancestors.
We're happy to welcome back our audiences and artists to Nenagh Arts Centre. Below are a number of policies in place for your safety:
Vaccination Passports or Recovery Certs will be required to attend this event.
The telephone number of the person booking will be used in the event of contact tracing.
Please do not attend if you are exhibiting any symptoms of COVID-19 or have been in contact with anyone who has tested positive.
Arriving early is advisable to comply with safe social distancing
Wearing of face masks is mandatory.
Please use hand sanitiser at the entrance.
Box office will close at 5pm the day of the event – All phone orders must be collected prior to this.
There is a one way system in operation within the building.
You will be directed to your seat by our front of house staff.
Where possible use e-tickets displayed on your phone.