Welcome to Nenagh Arts Centre Music page! Below you will find information for all the upcoming musical performances coming to Nenagh Arts Centre in the near future.
Ceo Draíochta - Dúchas - Conradh na Gaeilge - Saturday 8th September, 8pm, Tickets €12.00  (plus €1 Booking Fee)
Ceo Draíochta: Tionscadal Liam S Gógán
Ba dhuine d'fhilí tábhachtacha na Gaeilge san fhichiú haois é Liam agus dánta leis ar nós Na Coisithe agus Liobharn Stáit ar eolas ag aos scoile na tíre.
Léiriú ilmheánach a bheidh in Ceo Draíochta a dhéanfaidh ceiliúradh ar shaol agus ar shaothar an Ghógánaigh : filíocht, ceol agus íomhanna ar scáileán.
Léitheoirí : Colm Breathnach agus Sinéad Ní Uallacháin,
Tionlachan cheoil : Colm Ó Snodaigh,
Íomhánna breátha ar scáileán : Margaret Lonergan.
Eolas: Pádraig Ó Neachtain, Oifigeach Forbartha Gaeilge,
Dún Mhuire 067 41570
Rphost : cnagantaonach@gmail.com
www.cnagantaonach.ie
A multimedia performance, Ceo Draíochta will celebrate the work of Liam S Gógan, fusing poetry, music and on-screen archive photos and work. Colm Breathnach and Sinéad Ní Uallacháin will read extracts from his work to live music composed by Colm Ó Snodaigh, and screen projections by Margaret Lonergan.

______________________________________________________________________________________________
Luka Bloom - Saturday 22nd September, 8pm, Tickets: Early Bird Admission €15.00 / General Admission €20.00 (plus €1 Booking Fee)
EARLY BIRD ENDS Friday 17th August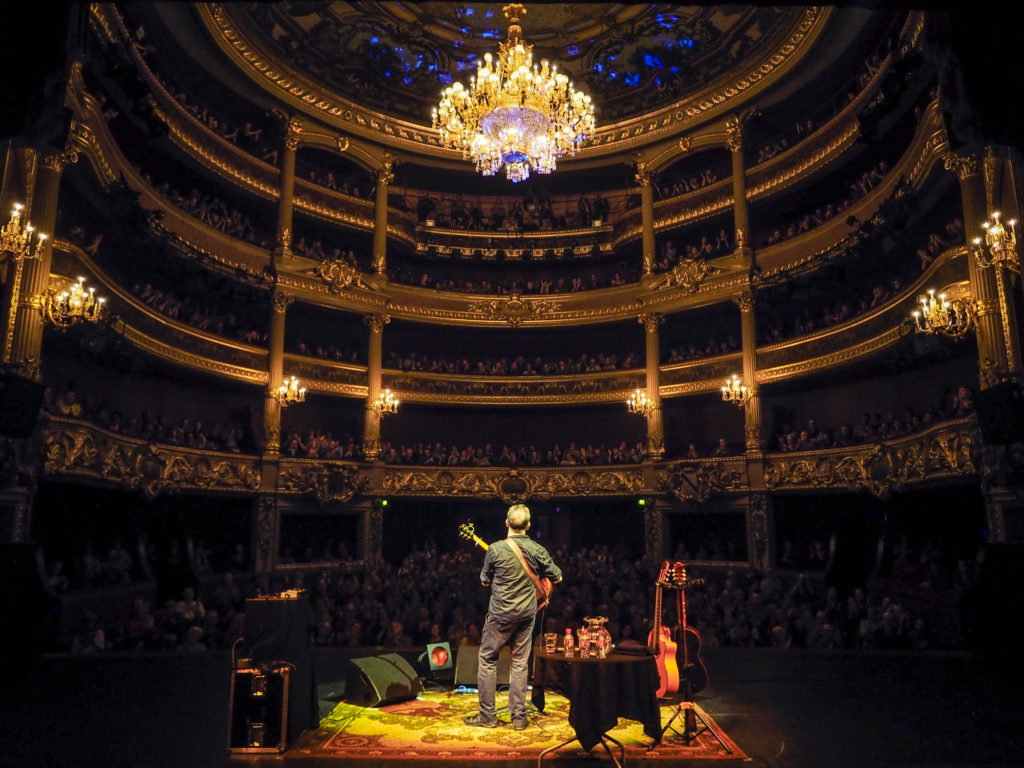 The very embodiment of the folk singer, Luka Bloom has that deep sense of social justice with an uncanny ability to distil contemporary life into the pithiest and most alluring combinations of lyrics and melody lines. Last year's album, Refuge, put a finger on the fractured nature of so much of what's happening in our world today, from homelessness to war to climate change. His voice is still as open and honest as it was over 30 years ago, and his guitar finds chord combinations that are all his own. Passion, playfulness and pause for thought: a hearty combination in any gig.
Siobhan Long, Irish Times. March 2018.
REFUGE:
2016 was a challenging year in the world. People respond to changes in different ways. since mid 2016 the world has seemed an angrier place. I decided to go quiet. These songs arrived and became a refuge for me. Songs have always been a place of refuge for me. Some times they help me understand the world; accept the world. Sometimes they help me escape the world. mostly, I just love songs. Writing them. Singing them. Alone. Big hall; small club. It's all good. And so it was that REFUGE came into being in mid 2017. In raw times I decided to keep the record raw. Guitar, vocal. The wonderful John Fitzgerald at Lettercollum Recording Studio, Timoleague, County Cork, recorded the songs. Brian Masterson mastered the record. Steve Averill designed the package. And the great Tim Goulding contributed his beautiful mandala for the cover image. George Karbus photographed the guitar. I love singing these songs.