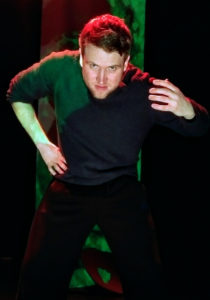 Nenagh Arts Centre presents award winning Limerick company Honest Arts with their show 'PUNT'. A story of gambling culture, following one man on the slippery slope to rock bottom after a lifetime of small bets, race meetings, online gauntlets, high stakes card games and the unspoken challenges that go with a life of 'investing' in chance.
Written and Directed by local Killaloe native Tara Doolan and written and Performed by Limerick man Pius McGrath. The development of this play has been supported by Fishamble: The New Play Company's New Play Clinic in the Belltable, Limerick. 'PUNT' A View from the Fringe – 'Honest Arts presented a one-man spectacle as truthful and artistic as its name… an hour of divine interaction with a true talent and a story of a truth told …. Definitely worth a punt!' Limerick Fringe 2017.
Honest Arts were winners of 'The Cutting Edge Artist Award' at the Toronto Fringe Festival 2015 with Set Designer Mario Beck being nominated for Best Set Design at the Irish Times Theatre Awards 2014. They toured to the Edinburgh Fringe in 2013 with their first original production 'The Mid-Knight Cowboy' which received rave reviews and was also performed on Broadway in New York as part of the United Solo Theatre Festival 2013.
The Mid-Knight Cowboy' The Scotsman – "…..McGrath is a talented performer, shifting through the generations with little more than subtle adjustments of speech and body language."
After last year's sell out shows at Limerick Fringe festival Nenagh Arts Centre are delighted to be part of this year's tour of PUNT. PUNT is coming to Nenagh Arts Centre on Saturday March 24th.